He's the most darling baby … easy going, happy, entertaining, sweet and cuddly.  From day one, he has been the easiest of my three, but after months of his asthmatic cough disrupting his sleep, he is no longer a good sleeper.  I am one exhausted momma and he is one precious 11 month old who needs a visit from the sleep doctor.
I have been pretty content with helping him ease into sleep at bedtime, but on auto-pilot in the middle of the night I end up nursing him and falling asleep and twice in one week I have awakened to him laying on the floor, crying beside my bed and it's unacceptable.  My poor, sweet Nicholas.
Anyhow, tonight commences operation Nicholas stay asleep and it's just me and him.  When we were out of town this weekend Matt told me how exhausted he is, and my initial thought was that Nick seemed to be trying to make sense of the new hotel surroundings by nursing throughout the night.  Tired … Matt.  You don't know tired.  I probably burnt 600 calories feeding him in my sleep.  I am tired.  Tired we both are.  It just comes with the territory of having three very active kids ages five and under.
The kids sleep soundly in their beds and Matt has fallen asleep in his chair.  I sit in bed, prepared for the night ahead when I will begin the weaning process anew.  I have my Friends dvds to keep me awake and a sweet baby to readjust to the ways of early toddler-hood.  Before I drift off to sleep, I thought I'd write seven items of gratitude.  I do this now, because when I begin the day in the red tomorrow I may need a remembrance of thanks.
1. I have a wonderful husband who took us out of town this weekend.  Even with the kids tagging along, three days of not having to cook, clean or do laundry was a much welcomed break.
2. The outlet of this blog when the kids are playing or napping during the day, or my mind is wide awake while Matt's has already retired for the evening.  It's nice to have "someone" to talk to.
3. My children would rather sing worship songs than anything else.  I know they don't always get what they are singing (as evidenced by Bethany's medley that went something like "Hey, now you're a rock star, get your game on … Holy Spirit come …"), but it does this mommy's heart good to hear her children singing His praises.
4. The absolutely over-the-top delicious sour cream blueberry crepes I indulged in at Richard Walker's this morning.
5. The sprouts that are emerging in my garden.  I love the reminder of the new life we have in Him when we bury our old selves.
6. That I will get to visit with friends over coffee in the morning.
7. We are about to celebrate the end of our sixth year as parents.  I can hardly believe my baby Lucas will be six on Sunday!  What a wonderful journey parenthood is.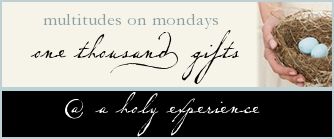 Tuesday's Update: Nicholas was up only one time last night, and I am not as tired as I thought I'd be.